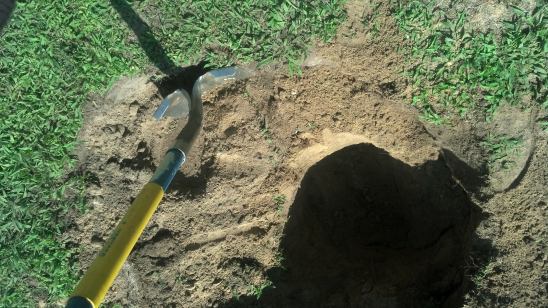 For the Real Estate Agent, buyer or seller that needs cost-effective well and/or septic evaluations and raw land perc tests with quick turn-around time for quick closings, without sacrificing quality of service.
Enviroappraisal brings over 34 years experience, current evaluator registration and bacteria and water well certifications conducting evaluations as a public agent and private consultant with over 23,000 evaluations successfully completed.
I want to thank all my clients for their continued support and the opportunity to serve them while we continue to grow every day!
FYI for your protection!!! Don't be fooled by anyone with a shovel! LOL To choose a credible company, my recommendation is that you inquire about the evaluator's college education in the sciences, their former governmental regulatory experience and years on the job. This is true liability-protection experience. Anyone else who opens a business doing well and septic evaluations with staff that lack the proper multi-faceted background are opening you up to dangerous liability and I would avoid them! Don't be fooled!! Always insure they have the background I recommended prior to hiring them. My background is a 4 year degree with a Bachelor of Science in Biology, Biomedicine with classes in Microbiolgy and supportive sciences, 10 years employed with Kalamazoo County Environmental Health as an Environmental Health Specialist, training EHS candidates and supervising Groundwater Staff and approx. 34 yrs. total public agent and private consultant well and septic evaluation experience! Who would you trust? Compare others verses us and make your own wise choice.
Myself, David Boynton, Dan Strole, Mike Foster and Jason Strole appreciate you and your clients entrusting us with your evaluation needs.
EXCITING NEWS! Two items - One, we finished our new commercial office located at 8720 E K Ave, Galesburg MI 49083. We moved in Jan 2017 - you will all be invited to the upcoming openhouse!
We also are opening our first franchise, Enviroappraisal 2, LLC in Northwest Michigan - Areas served Antrim, Grand Traverse, Kalkaska, Leelanau and Wexford Counties, operated by David Boynton, an excellent consultant with a great background in trades and well/septic construction and evaluation! Give him a call at 231-944-6619.
We are referring home inspection services in Southwest Michigan counties with a great home inspector, Dan Perrin, who runs Advantage Companies LLC 269-324-9800, and premier pest inspection and pest treatment services with a great pest inspector, Jeremy Johns, who runs Exact Pest 269-665-9500. We feel these two companies are the top companies conducting these services locally.
Services offered:
Water analysis - Bacteria & Nitrate, also other parameters as requested
Well and septic evaluations, including BEDHD TOST evaluations - Tier 1 level Evaluator
Uncovering well and septic systems
Dewinterize/winterize of water well bladder tanks and extensive flushing of well for sampling
Pumping of septic tanks by local provider
Raw land evaluations
Water well and water quality evaluations
Septic tank baffle and lid replacement